The Pacific Oceania Davis Cup Team have won their final Pool Match 2-1 against Qatar of the Davis Cup by Rakuten, Group III, Asia/Oceania Tie to qualify for the Promotional Play Offs tomorrow (Saturday) at 10am local Jordan time.
Debutante Clement Mainguy (VAN). playing in only his 2nd Davis Cup Tie, got the Tie off to the perfect start beating his Qatar opponent, Rashed Nawaf 6-3, 7-5. The match got off to the perfect start with Clement Mainguy breaking his opponent's serve in the 1st game of the match to then take out the 1st set 6-3. The 2nd set was much closer with both players dropping serve twice earlier in the Set. But the pivotal game was the 12th game with his opponent, Rashed Nawaf having just broken serve to lead the 2nd Set 6-5 and 40-15. Clement Mainguy then produced in the words of Captain, Richard Breen (FIJ) "2 of the best points he had ever seen Clement Mainguy play." He said that "they were the most perfectly constructed points he had seen him play where he returned the serves well and then used both the depth and angle of his shots to completely open up the court for 2 winners" to take the Set to deuce. He then won the next 2 points to then win the 2nd Set and the match 6-3, 7-5. Richard Breen said that 2 pleasing aspects of Clement Mainguy's match play was that "he converted 5 out 5 break point opportunities but additionally his 1st serve percentage was a lot higher than his previous match at 68%."
The next Singles match was between the two #1 players from Pacific Oceania, Colin Sinclair (NMI) and Mousa Shanan Zayed (QAT). Colin Sinclair dominated this match from the 1st game to then win the match easily in 45 minutes 6-1, 6-0. This then gave Pacific Oceania an unassailable lead 2-0 to go through the promotional Play Offs.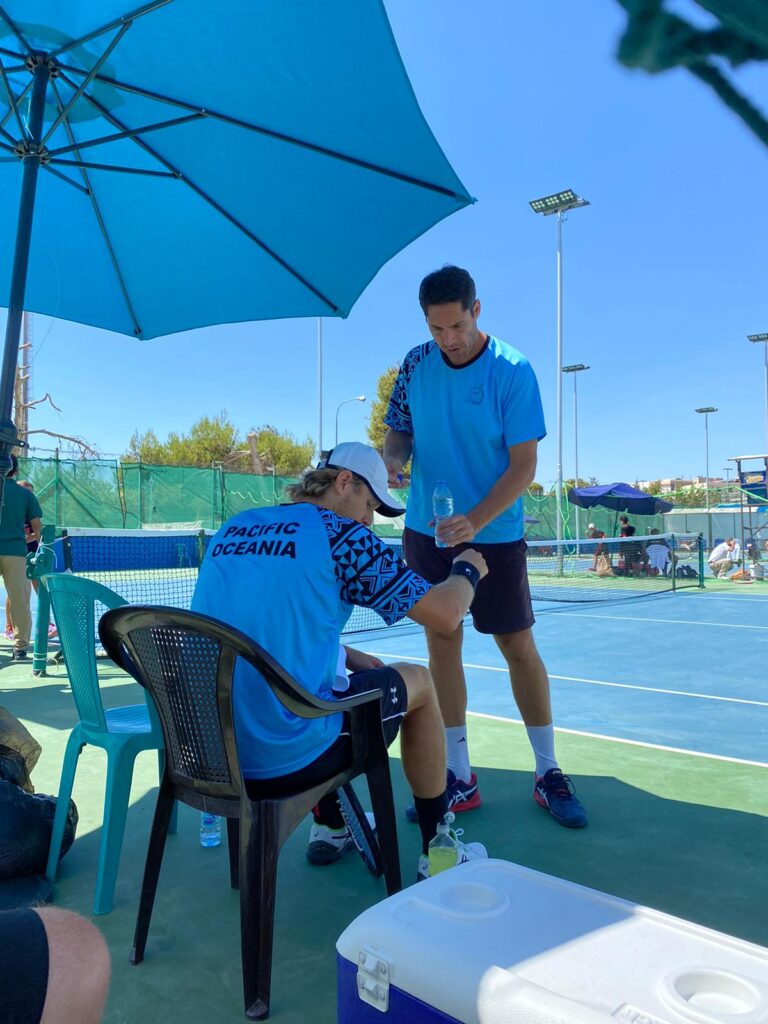 Pacific Oceania Captain, Richard Breen, then decided to rest Colin Sinclair in the dead Doubles Rubber which gave another debutante, Heimanarii Lai San (TAH) the opportunity to pair up with veteran Brett Baudinet against their Qatar opponents, Sultan Khalfan AL Alawi/ Mousa Shanan Zayed. The Qatar pairing were too strong winning the match 6-0, 6-2.
Results From Day 3 – Friday 17th September (Final Pool Day)
The Final Pool Standing Results were:
— Final Point Standing – Pool A
— Final Point Standing – Pool B
— Final Point Standing – Pool C
As a result of the draw after Pool Play to decide the Play Offs, Pacific Oceania was drawn to play Jordan Play Off Draw
The Order of Play for the Final Day is: Order of Play Saturday 18th September