2021
Colin Sinclair (NMI) is the only Pacific Oceania player, currently playing on the Men's professional tour with a 2021 Year-End ATP ranking of 718 (Singles) and 591 Doubles. He finished 2021 with an ATP Singles Ranking of 682 and a Doubles ranking of 569. His Year-End ITF Ranking was 268 (Singles) and 464 (Doubles).
Colin Sinclair
In 2021 he reached 5 ITF Doubles Finals in Tallahassee (Florida), Ricany (Czech Republic). Eupen (Belgium). and 2 Events in Monastir (Tunisia), winning one of these, the M15 Events with Romanian partner, Vladislav Melnic. His best Singles result was winning the ITF M15 Singles Event in Guatemala in late November; he also reached the Semi-Finals of the M25 in Eupen, Belgium. He has now won 2 ITF Singles Titles (2019 M15 Claremont and 2021 M15 Guatemala) and 2 ITF Doubles Titles (2017 F8 Belgium Futures and 2021 M15 Monastir).
2020
Colin Sinclair (NMI) is the only Pacific Oceania player, who played on the Men's professional tour with an ATP ranking. He finished 2020 with a Singles ranking of 735 and a Doubles ranking of 868. Colin was one of 29 players from 22 countries to receive a 2020 International Player Grand Slam Grant financed by the Grand Slam Development Fund (GSDF). The programme is in its 4th year and provides to selected players grants as a contribution to their competition-related costs, with the aim of helping them to develop as professional tennis players and compete in Grand Slam tournaments. The GSDF Committee considers specific age, ranking and regional representation criteria when making decisions on which players should receive grants, with all recipients deemed to show exceptional potential.
2019
Colin Sinclair created Pacific Oceania tennis history when he became the first Pacific Oceania Professional tennis player to win a Singles Title at the ITF $15,000 Futures Event at Claremont, California in February 2019.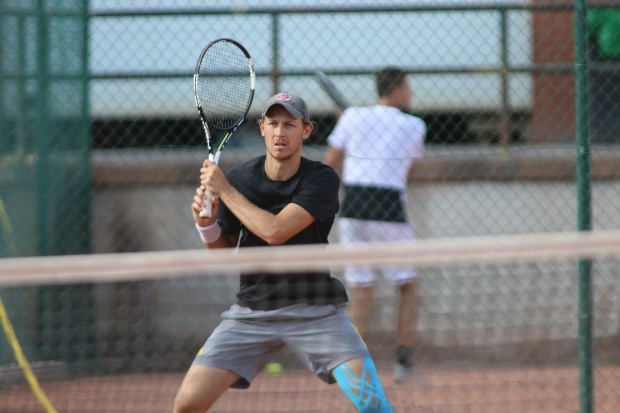 Seeded #1 he won the Singles Title only dropping 1 set in 5 matches. He finished 2019 with a World Singles Ranking of 571 and a Doubles ranking of 908.
2018
Colin Sinclair (NMI), pictured below, broke into the World's Top 500 players when he achieved his highest Singles Ranking and the highest Men's World Ranking in Pacific Oceania history ever of 494 on the 19th November 2018 (currently 496). This is almost 800 places higher than his 2017 year end ranking of 1267. He reached the Singles Final in the following 5 consecutive events he played -Men's Futures tournaments (Australia F8, Australia F7, Tunisia F31, Belgium F9, Belgium F8)
Subsequently, he was given a Wildcard into the AO 2019 Asia-Pacific Wildcard Play-Off in Zhuhai, China from Tuesday 27th November to Saturday 1st December 2018. Colin's wild card was to the Qualifying Draw (8 players with 4 progressing into the Main Draw). He subsequently progressed into the Main Draw.
2017
Colin Sinclair (NMI) finished 2017 with an ATP Singles Ranking of 1267 and a Doubles Ranking of 1119. He won his first ever Men's Professional Title at the Belgium 8 Futures Event on clay in Eupen. Teaming up with Charles Broom (GBR) he won the Doubles Final 4-6, 6-1, 10-5.