The Pacific Oceania Davis Cup Team have overnight won a thrilling deciding Doubles Match to earn promotion to Group II in 2022 in the 2021 Davis Cup by Rakuten Asia/Oceania Group III Tie in Amman, Jordan.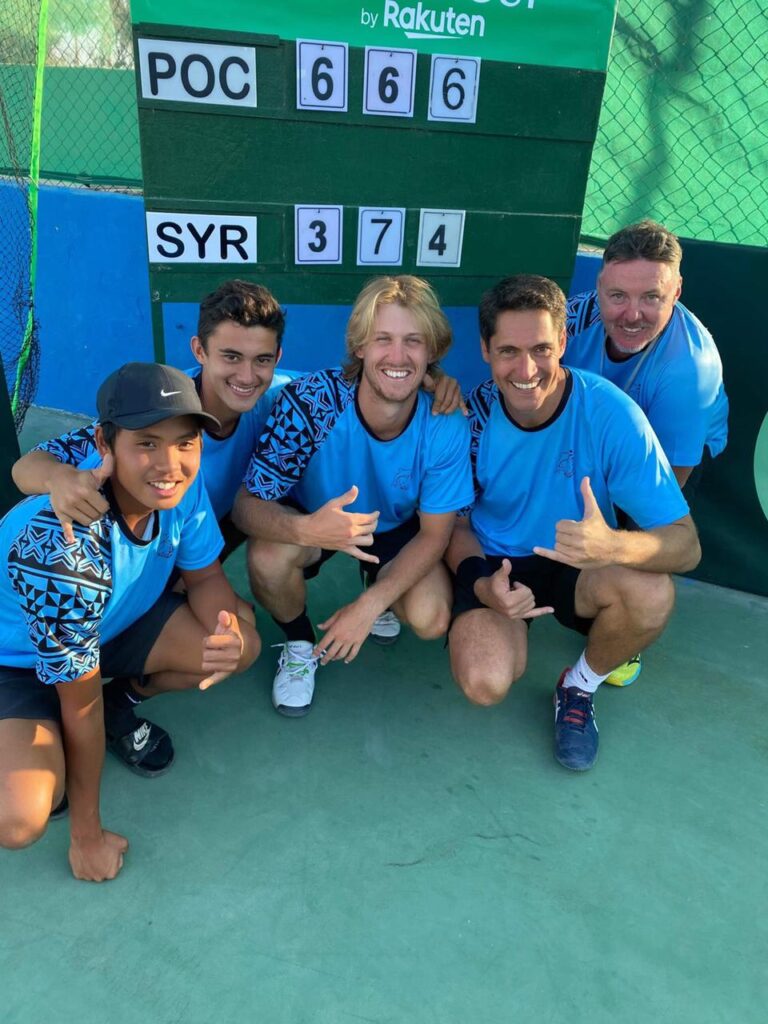 Brett Baudinet (CI), playing in his 59th Davis Cup Tie teamed up with Colin Sinclair (NMI) to beat the Syrian Doubles pairing of Kareem AL Allaf/Hazem Naw 6-3, 6-7(2), 6-4. Team Captain Richard Breen said that "This was the best he had ever seen Brett Baudinet play. He had stepped his game up for this "must-win" decider; that there were 2 critical turning points in the final set; Syria were up a break at 2-1 and serving at 40/15 with 2 game points but both Colin (playing in the deuce court) and Brett (playing in the backhand court) produced 2 unbelievable and unplayable return of serves to take the game to deuce and then eventually to level at 2-2. Then later in the final set at 4 games-all and deuce, following a rally of over 20 hits the Syrian player hit a ferocious forehand down the tram lines of the court, Colin reached out and just got the tip of his racquet to it and it just dropped over the net to give our team break point which they converted to make the score 5-4." They then broke Syria to win the final and deciding set.
Earlier in the day, Clement Mainguy lost the opening singles 6-2, 6-1 to Hazem Naw (SYR) 6-2, 6-1 before Colin Sinclair (NMI) levelled the Tie 1-1 with a thrilling 2 hr 40m Singles Match 7-5, 6-7 (7), 6-4.
Pacific Oceania, Hong Kong China and Vietnam were promoted to Group II in 2022 and Kuwait, Qatar and Sri Lanka were relegated to Group IV.
Final Play Off Scores – Saturday 18th September