The Pacific Tennis Development Programme began in 1994 when OTF consultant Barry McMillan arranged a sponsorship with the ANZ Bank to fund a 3 year "tennis in schools" development programme in Pacific Island Nations. in the first year 7 nations were involved which has grown to 16 countries in 2012.
The concept saw National Tennis Associations appointing national co-ordinators who would provide the training for the delivery of mini tennis in schools for coahes and primary school teachers. the programme was an instant "hit" with other nations clamouring to be part of the programme the folowing year. last year close to 30, 000 children across the Pacific Oceania Region were involved in the programme.
Former ANZ Bank Managing Director, Bob Lyon, was a huge and integral supporter of the programme and he was instumental in seeing the programme develop over the last 18 years. he had a personal interest in the programme and in his business travels across the Pacific always took time out to visit the tennis administrators to see the program in action.
Over the years there have been a number of additions to the program. Early on it was seen that the children wanted to play as well as learn to hit the ball so Star Competitions designed by former ITF Development Officer, Dan O'Connell, were introduced. To encourage a greater number of the youngsters to move on to full court tennis a transition to tennis program was introduced in 2004 with some seed funding from the ANZ sponsorship.
The program has also benefited from the two yearly grants of equipment from the ITF to developing nations. This equipment and nets supplied by Tennis Australia have been utilised by the national co-ordinators to provide sets to the schools in their countries.
The success of the program is illustrated by the number of players now taking part in tournaments on the ITF Pacific Oceania Junior Circuit who had their first introduction to tennis through the ANZ Bank mini-tennis program at their school.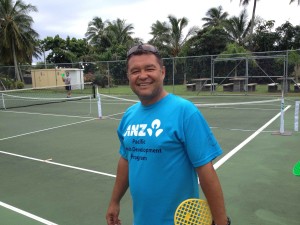 The photo on the right shows Cook Islands Mini Tennis Programme Co-Ordinator, Malcolm Kajer preparing for a session with some of the 1200 children that have been part of his programme in Rarotonga.