2020
On the 5th August, the ITF hosted a Coaching Webinar which was a joint collaboration with Tennis New Zealand. Riann Kruger, the ITF Team Lead-Coaching, Christophe Lambert, Tennis NZ High Performance Director, Gayle Vaughan (Tennis NZ) and Gary Purcell, ITF Development Officer-Pacific Oceania were the facilitators.
There were 35 attendees from 12 countries: American Samoa (2), Fiji (4), France (1), Guam (4), New Zealand (14), Norfolk Islands (1), Papua New Guinea (1), Samoa (1), Solomon Islands (1), South Africa (1), USA (1), Vanuatu (1) plus the hosts.
Below are links to the Webinar discussion material
______________________________________________________________________________
Miguel Crespo (ITF Head of Participation & Coaching) and Gary Purcell (ITF Development Officer-Pacific Oceania) hosted a Coaching Webinar on Thursday 9th July. There were 52 attendees from 14 countries:
American Samoa(1), Cook Islands(2), Fiji(10), France(10), Guam(7), New Zealand(11), Norfolk Islands(1), Northern Mariana Islands(2), Papua New Guinea(2), Philippines(1),Solomon Islands(2), South Africa(1), Tahiti(1) and Vanuatu(10)
The following topics were covered with the intent to have a follow up webinar in August:
* TF Academy
* Coach Education
* Continuous Professional Development
* Current Challenges and Opportunities
* Q&A
* What is the ITF Academy?
* What are its goals?
* Who is it geared towards? Only coaches?
* What is the structure? How does it work?
* Are there any levels or stages?
* Which different types of courses are there?
* What are the main characteristics of the courses?
* How many languages?
* How will this affect the actual delivery of the courses?
* How is the Academy related to the ITF recognition of the coach education system of a National Associations?
* Why is it important to register in the Academy?
* Resources available for free Ebooks
______________________________________________________________________
2019
From the 30th September- 11th October, 15 participants from 5 OTF Member Nations took part in the ITF Coaching Beginners & Intermediate Players Coaching Course (CBI – Level 1) at the ITF Pacific Regional Training Centre at Nadovu Park, Lautoka, Fiji. All participants were accommodated at the ITF Pacific Training Centre House in Lautoka, Fiji for the duration of the course.
A pre-requisite for attendance was the ITF Play Tennis course. This course was held immediately prior to the CBI Course for 9 of the final participants. The courses were delivered by Gary Purcell (the ITF Development Officer for the Pacific Oceania Region), Roxanne Clarke (The Director and Head Coach of the ITF Training Centre) and Thomas Perrin (The Senior Coach at the ITF Training Centre). The attending participants came from 5 Nations of Pacific Oceania (Australia, Fiji, Norfolk Island, Samoa and Vanuatu).
The participants were:
Australia – Julia Gorman
Fiji – Annie Shannon, Raynal Singh, Munish Naidu, Laisiasa Qiolevu, Lemeki Veimateyaki, Saimone Lagaverewale, Dale Lawrence, Saurav Sharma
Norfolk Island – Sam Cribb
Samoa – Luisa Tausii, Maanaima Tausii, Mishaela Bonin,
Vanuatu – Michael Malapa, Marie Liwuslili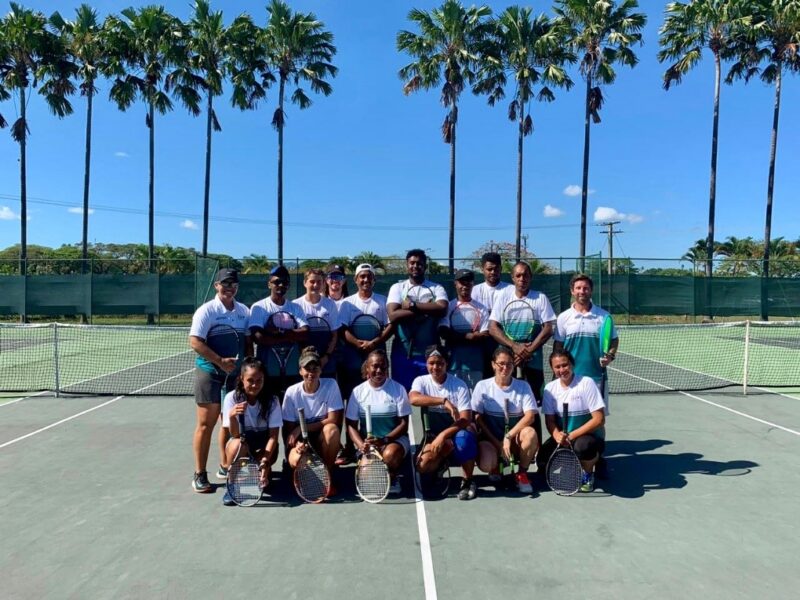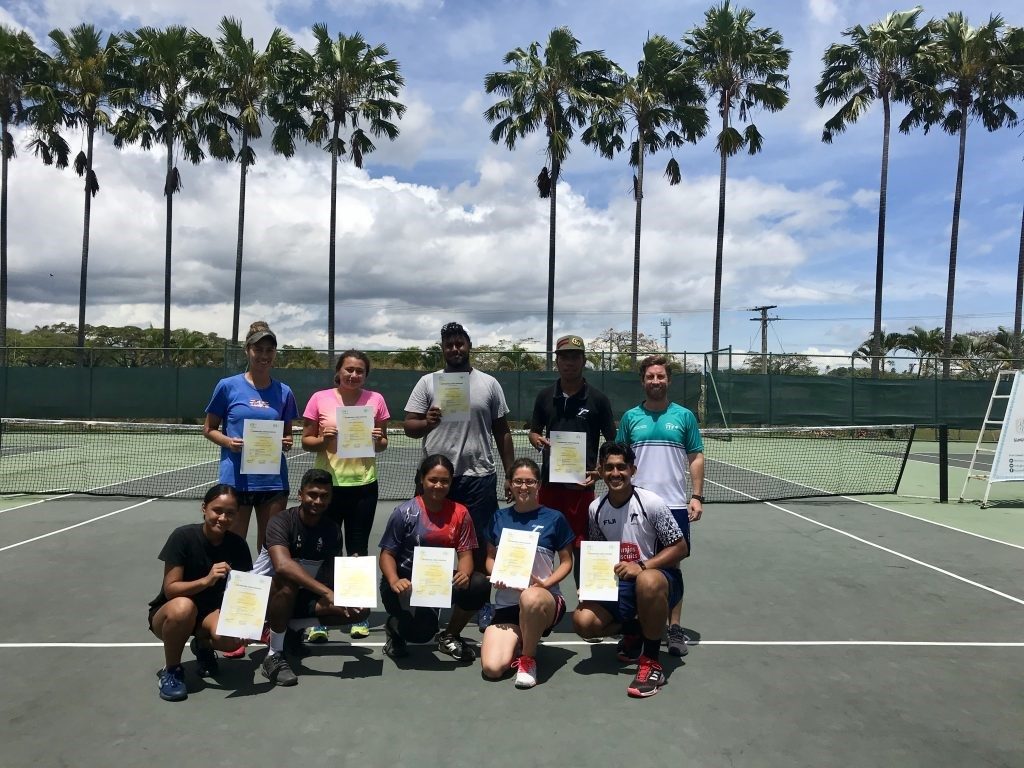 2017
The Olympic Solidarity/ITF Coaching Beginners and Intermediate Players course was held in Lautoka, Fiji from 6th-17th November 2017. There were 15 attendees from the Pacific and Australia:
Georjemah Row (Solomon Islands)
Junior Benjamin(Solomon Islands)
Vinda Teally(Solomon Islands)
Graham Mani(Solomon Islands)
Ruby Coffin(Fiji)
Vienna Kumar(Fiji)
Sumit Lal(Fiji)
Laisiasa Qioleru(Fiji)
Lemeki Ledua Veimateyaki(Fiji)
Alesi Molotii(Tuvalu)
Alemenia Auega(Tuvalu)
Yvonne Carruthers(Samoa)
Eddie Mera(Papua New Guinea)
Tito Bira(Kiribati)
Paul Owen(Australia)
The course Tutor, Kawaljeet Singh (India) writes that:
"Over the years, Pacific Oceania has benefited from Olympic Solidarity Tennis Courses. With this support coaches in this region have come a long way! Tennis Fiji along with NOC, organized OS/ITF CBI course at ITF's Regional Training Centre at Lautoka from November 06 -17, 2017.Fifteen coaches from the Pacific Nations of Solomon Islands, Tuvalu, Samoa, Papua New Guinea, Kiribati, Fiji and one candidate from Australia took part in the intensive 12 day course.
Course Tutor, Kawaljeet Singh from India along with Gary Purcell ITF Development Officer for Pacific Oceania and Roxanne Clarke, Director of the ITF House and Head Coach at the Regional Training Centre, shared their vast experience with coaches. The CBI course has 76.5 hours of tutor-candidate hours with 63.5 hours on court and 13 hours in lecture room presentations.
The first three days comprised of the ITF Play Tennis Course, aimed at developing mass participation of young kids and attracting adults to the game through fun and enjoyable activities on court. The CBI course which is based on the game based approach to teach tennis has technical/tactical/physical and mental development components aimed at beginners and intermediate players. The goal of the Play Tennis Course is to help make a coach competent to teach skills required in the early stage of player development, while the CBI course delves deeper into coaching principles for intermediate junior and adult players.
Course participants and ITF training centre players were also given a Yoga session with Yoga expert Jatinder Rai from New Zealand who was visiting Fiji during the course. Ms Maria Yvonne Carruthers of Samoa who was one of the senior coaches attending the course said "For the last 20 years I have been teaching tennis and this course was a fabulous learning and enjoyable experience which I really appreciate.".
Tennis Fiji Secretary Mr. Sachin Reddy was there every day with his support in organizing the course. Mr. Richard Breen, President Tennis Fiji visited the course a number of times with his valuable inputs in overseeing the smooth running of the course. The course candidates, who were housed at ITF House, enjoyed the warm hospitality of home-made meals by Auntie Filo with great support from ITF House Manager Donna.
The coaches in the region need continued education, and sincere efforts are being done by the ITF through Development Officer visits to Island Nations with support from OS, ONOC and Tennis Fiji. On the concluding day Mr. Richard Breen expressed "Coaches education in the region will always be a priority in his list of development works".
A big thank you to all the participant coaches for putting in great efforts during the course. It will be fantastic to see these coaches developing tennis and attending future courses to be held in this beautiful region. Bula!!!"
Coaching of Advanced Players-Valencia, Spain- August 2017
Cyril Jacobe (VAN) has been certified as a coach of advanced players following his passing of the ITF Advanced Players Coaches' Course last month in Valencia, Spain.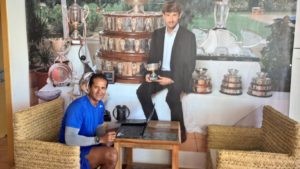 This course enabled Cyril to have the opportunity to watch and talk to the coaches at the Academy about the training methods they use and why they use them; he then was able to utilize what he had learnt by passing this on to the junior players that he worked with in the Academy. Feedback from the Academy tutors is that they were impressed with the positive learning environment that he created; that he showed strong ability in detecting technical, tactical, physical and psychological aspects of the game of tennis and was able to organize appropriate drills and progressions to help the players he was working with improve in these areas.
Cyril Jacobe commented that "he attended the 6 week "ITF/OS level 2 Advanced Player Coaching Course" under the tutelage of Dr. Miguel Crespo. Also attending the course were four other coaches doing the ITF level 2 & 3 course, all from different countries. Pictured below from left to right: Dwayne Pagon (Jamaica), Cyril Jacobe (Vanuatu), Guillermo Stevens (Mexico), Miguel Crespo (tutor from Spain), Emmanuel Novas (Dominican Republic) and Andrew Thornton (Barbados).
Whist in Valencia, we lived with the residents at the "DEPORTIU COMPLEX DE VALENCIA". The complex had 50 plus twin rooms, a cafeteria/ canteen, library, 2 gymnasiums, 1 Olympic swimming pool, 2 fitness rooms for classes, 1 sitting area/ lounge, laundry services. Each morning we were transported to the Sport and Life Tennis Academy by Carlos Valle, one of the coaches and physical trainers at the academy, where we coached court side Pancho Alvirino and Jonathan Moll, co-directors of the Academy. We were immediately made to feel at home by everyone at the Academy (Pancho Alvirino, Rafa Mensua, Johnathan Moll, Carlos Valle and Beatriz Garcia). They greeted us with open arms and showed us the coaching styles and methods used in Spain. We all appreciated the fact that we were encouraged to go on to the court with a coach to observe and give feedback, suggestions, and assist with the sessions with high performance players. They took the time to explain the goals of the drills while showing us the technical, tactical, mental and physical importance to improve their players. We then spent all our afternoons at the ITF office, studying and researching. In addition to the on court coaching and studying, we had six excursion trips planned by Mr. Crespo, our tutor, throughout the six weeks.
Our first excursion was to the Valencia Tennis Federation at the Dr. Lluck headquarters where Mr Francisco Mastelli gave us a tour of the facilities. The Federation has four centres throughout Valencia and at this location there are four courts. We were told that majority of the kids are at the beginner/intermediate level and play either once a week or twice a week.
The next excursion trip was to Mallorca, home of Rafael Nadal. Thanks to Miguel Crespo for organising and guiding us through the day. The first stop was the Mallorca Open, a first time WTA event. It had 6 grass courts made just for the Open, matching Wimbledon standards. We had the thrill of seeing Rafa Nadal practise for Wimbledon preparation. Nadal was very impressive, a very solid body structure but yet super dynamic and explosive. Furthermore, we hung around the Open watching the ladies practise and admired the pure power and fluidity of 6'2″ Kristina Pliskova vs Francesca Schiavone. We were all impressed by the splendour of the lefty, Pliskova, and Schiavone's musculature. Again thru Miguel's magic we were able to meet Tony Nadal, Rafa's coach, here pictured below with the team of coaches.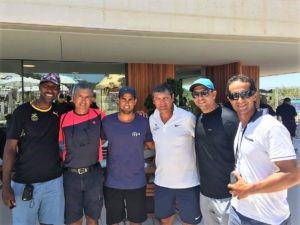 Next stop was the brand new state of the art Rafa Nadal Tennis Academy by Movistar, which had 27 tennis courts, including 1 centre court, 2 artificial grass football pitches, 1 swimming pool, 1 fully equipped by TechnoGym fitness centre and much more, including a restaurant. We were all mesmerized with the grandiosity of the infrastructure. Unfortunately, we didn't get the chance to thoroughly visit the centre but just being there we felt it had enormous potential to create a new generation of Professionals. An eye opener for the ITF/OS course coaches.
From there, we made our way to a typical village tennis club, something more familiar to us. We had the great pleasure to learn from Geoffrey Porta who had worked with Nadal and Moya during their junior career. The centre had 5 clay courts, a small club house with a small gym. It also had residents on the top floor of the club house, residing up to 10 players including Geoffrey and his wife. His philosophy of tennis is to educate youngsters through the beautiful game of Tennis and by doing so he created his enterprise called "Tennis10".
With now 3 weeks remaining we felt that 6 weeks wasn't much after all. Miguel thought we were competent to part take in the Level 3 High Performance Coaching course therefore he accelerated the pace of the Level 2 course and we were sitting our final written exam on the Monday of week 4. During that same week we visited two of Spain's top Tennis Academies, Barcelona Total Tennis (BTT) and Sanchez Casal Tennis Academy, both in Barcelona and both monstrous tennis bases with 25-30 plus courts. In addition, we had the privilege to stay at the Centre D'Alte Regime (C.A.R) and also had a full tour of the high performance centre. I had never seen anything like the CAR; State of the art infrastructure with the latest updated technology to create Spain's Olympic medal winning athletes (not just tennis players). We then spent the weekend in Barcelona visiting some of the world's most famous tourist attractions such as the Sagrada Familia and Camp Nau (Home of Lionel Messi and FC Barcelona).
Now with 2 weeks left we began studying "Psychology for Tennis" and in my opinion this is the main pillar to reach the top professional level of all sports. Meanwhile we still had trips planned and our next one was Madrid to visit Madrid Tennis Federation, home of the Federacion de Tenis de Espana. We had a very instructional presentation by David Sanz about the procedures and statistics of the Spanish Federation. Later on we were at the Ciudad de la Raqueta de Tennis to watch the 14s Nationals. A tournament that most of the current top Spaniards, Nadal, Verdasco etc… once played. The level of tennis was fascinating.
After a weekend of studying we were sitting our Level 3 Psychology test, doing our practical tests, and beginning the second module "Periodization/ plannification". At the start of week 6 we visited Club de Tenis Valencia and Sporting Club Valencia which were in Valencia and both those clubs are the most prestigious clubs in Valencia. I'm glad that we were able to have the full tour.
Furthermore we had a last visit on the 20th July at JC Ferero Equelite Tennis Academy. Definitely my best experience of all visits. Lastly, we received a power point presentation from Carlos Valle, the physical conditioning coach at Sport and life tennis academy by Pancho Alvarino. The next day we were sitting our final test and glad it was over but sad to know my Spanish experience halted.'
Cyril's trip was funded by Olympic Solidarity and VASANOC with the support of the Vanuatu Tennis Federation.
Pictured below, the 3 international Level 2 coaches and the Spanish coaches at Sport & Life tennis academy.