2018
In January 2018, Violet Apisah became the first Papua New Guinea tennis player to reach a Grand Slam Final. In the Semi-Finals of the Junior Girl's Doubles Event of the 2018 Australian Open, Violet and her partner, Lulu Sun of Switzerland (seeded 7th), defeated Xiyu Wang(CHN)/Simona Waltert (SUI) 0-6, 6-3, 10-7.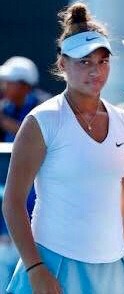 In the final they were then beaten by the top seeds, En Shuo Liang (TPE)/Xinyu Wang(CHN). She the became one of only 13 International players to receive the first ever International Junior Player Grant of $25,000. The intent of this was a contribution towards her competition-related costs with the aim of helping her make the transition from the Junior game to the professional circuit. She met the criteria of the ITF which included specific age, ranking, exceptional potential and regional representation
NEW ZEALAND U14 CHAMPIONSHIPS
Pacific players starred in the 2018 U14 New Zealand Junior Championships at the Trustpower Wilding Park Indoor Tennis Centre in January 2018. Clement Mainguy (VAN) beat the best from both New Zealand and the Pacific to win the U14 New Zealand Junior Championships. Seeded #1, he beat the #2 seed Corban Crowther (NZL) 6-3,4-6,6-3
Then in the Mixed Doubles, he teamed up with Saiorse Breen(FIJI) to beat the New Zealand pairing of Abby Mason/Charlie Morrison 4-2, 2-4, 13-11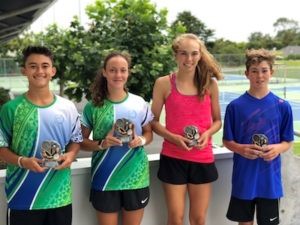 UNDER 18 GSDF TEAM TO MEXICO AND FLORIDA
Carol Lee (NMI) was invited by the ITF and the GSDF to participate in the International 18&U GSDF Team to Mexico and Florida in November/December 2018. Following a training camp in Mexico in the week of the 8th November, she played in 4 clay Court Outdoor Tournaments culminating with the Orange Bowl International Tennis Championships at Plantation, Florida.
2017
Carol Lee (NMI) also had her best year on the ITF Circuit in 2017. In May 2017 she won her first ITF Junior title at the RUC Tennis Junior Open, a Grade 4 Clay tournament, in Casablanca, Morocco. Partnering with American, Skyler Marie Grace Grishuk, they won the final against Celestine Avomo Ella (GAB)/Elena Gemovic (SRB) 6-3, 3-6, 11-9. Then in June 2017 at the ITF Junior New Caledonian Event, she won both the Singles and the Doubles Events. In the Singles Final, she beat Helena Mohamed (FRA) 7-5, 6-2 before teaming with Holly Stewart (NZL) to win her 2nd ITF Junior Doubles title 6-4,6-0. The previous month at the 110th Fiji Open partnering with Roxanne Clarke (RSA), she beat the Samoan pairing of Steffie Carruthers/Eleanor Schuster 6-4, 6-0.