2020
There was no event in 2020 due to Covid-19
2019
Inclement weather caused the abandonment of the Semi-Finals and Finals at the ITF J5 Event at the Vanuatu National Competition Centre Korman Stadium in Port Vila, Vanuatu from the 14th-19th October 2019.
This started on Semi-Finals Day and continued to the end of the scheduled Finals Day when the Event was abandoned with Boy's Singles Semi-Finals and Finals and also the Boy's the Doubles Semi-Finals and Finals not played. The Girl's Singles Final was also not played. This was similar in the Girl's Doubles with 1 semi -final and the Final not played.

Carolann Delauney (CAL) was in the final of both the Girl's Singles and Girl's Doubles (with partner Zorika Morgan -SI) before play was abandoned. She has earlier beaten Zorika Morgan (SI) in the Singles Semi Final 61,63. Similarly Clement Mainguy was midway through his semi-final Singles Match against William Hetzis (AUS) with the match locked at 5-5 when the match was abandoned. He was also in the not yet started Doubles Semi-Final with Jeremy Jin (AUS).
2018
Pacific Oceania Players won all 4 titles at the inaugural ITF Grade 5 "Vanuatu Junior International Open" in Port Vila, Vanuatu in October 2018. Clement Mainguy (VAN) won both the Boy's Singles and Doubles Finals. In the Singles Final he beat Corban Crowther (NZL) 76(5), 46, 63. In the Doubles Final, he and his partner Corban Crowther (NZL) then teamed up to beat the Australian pairing of Callum Gale/Luke Vuletic 63, 36, 10-7.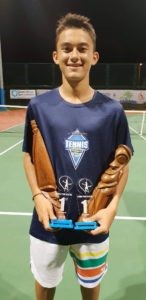 In the Girl's Singles Final, Clara Cwajgenbaum (CAL) defeated Elena Micic (AUS) 57, Retired. In the Girl's Doubles Final, Eleanor Schuster (SAM) and her partner Ema Miyaura (SAM) defeated Clara Cwajgenbaum(CAL)/Elena Micic (AUS) 62,67(6),10-5