Today the 20th Oceania Tennis Federation (OTF) AGM was held virtually. There were 35 in attendance with 17 Nations represented.
The Nations that were represented were: American Samoa, Australia, Cook Islands, Fiji, Guam, Federated States of Micronesia, Nauru, New Caledonia, New Zealand, Northern Mariana Islands, Palau, Papua New Guinea, Solomon Islands, Tahiti, Tonga, Tuvalu and Vanuatu.

Also in attendance were David Haggerty (ITF President), Kelly Fairweather(ITF Chief Operating Officer), Luca Santilli (ITF Executive Director, Tennis Development), James McGurran (ITF International Relations Manager), Gary Purcell (ITF Development Officer-Pacific Oceania) and Geoff Pollard (OTF Life Member, former OTF President and ITF Honorary Life Vice-President).
Additionally, attending in an observer capacity were Andrew Minogue (Pacific Games Council CEO) and Roreti Eritai (Kiribati Secretary for the Ministry of Sport)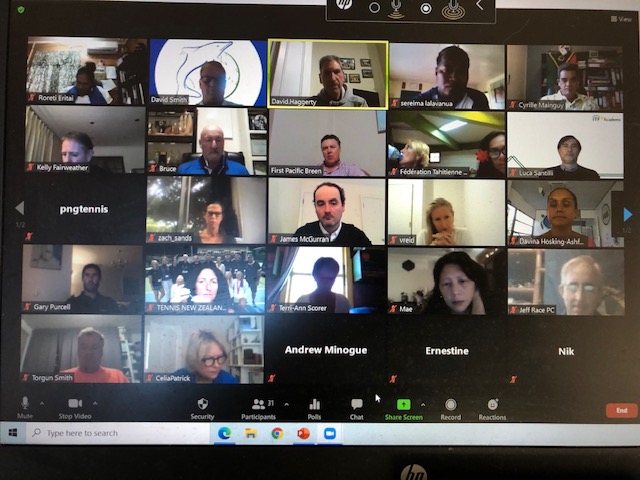 During the AGM, delegates voted in a new OTF Board, some positions for 4 years and others for 2 years. The new OTF Board is:
President (4 years) Cyrille Mainguy (VAN)

Vice-President (2 years) Bruce Osborne (AUS)

Board Member (4 Years) Barbara Stubbings (PNG)
Board Member (4 Years) Davina Hosking-Ashford (CI)
Board Member (4 Years) Torgun Smith (GUM)

Board Member (2 Years) Vicki Reid (AUS)
Board Member (2 Years) Florence Wasko (AS)
Board Member (2 Years) Terri-Ann Scorer (NZL)