Eight women from the Pacific including American Samoa, Cook Islands, Fiji, Papua New Guinea, and Solomon Islands have arrived in Melbourne to graduate from the Pacific Women Leaders in Tennis program and will also watch all the action at the Australian Open finals.
Tennis Australia's Pacific Women in Tennis – Emerging on to the World Stage program is supported by the Australian Government's elite sports pathways program, PacificAus Sports.
Designed in collaboration with women leaders across Oceania Tennis, the Tennis Australia Women Leaders in Tennis program has been adapted to reflect the Pacific context with the objective of increasing the pipeline of female Pacific administrators in tennis through professional development and networking opportunities.
"Tennis Australia is proud of our ongoing relationship with the Pacific and our partnership with national federations to build the capacity of women leaders in tennis. These women are amazing, they have heart and commitment towards seeing tennis grow and thrive within the communities they play, coach and lead in. We are incredibly excited to welcome our participants to Australia to enjoy an amazing AO experience," Director of Government, Social Impact and Stakeholder Relations Vicki Reid said.
"It is so important for women to take on leadership roles in their communities, so women and girls have an equal voice and the ability to influence decision making. Having more women in leadership positions helps to create a welcoming, safe, and inclusive environment for all."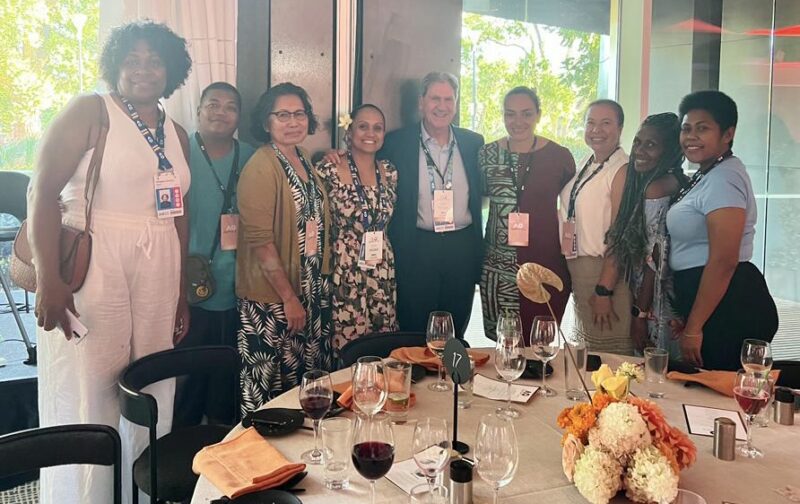 "I'm very passionate about women's voices in sport, we're half the population so we should be heard," President of Tennis PNG Barbara Stubbings, a participant in the program, said. "I joined the program because I wanted to learn a little bit more about myself and how I can improve, and how I can help others improve around me in my tennis community. I wanted to continue to grow as a leader and an administrator."
"I'm looking forward to the first plane ride of my life, and to seeing what it's like," Lusiana Vakere from Tennis Fiji added.
The eight graduates will also attend the AO Inspirational Series on Thursday 26 January, headlined by Billie Jean King and members of the Original Nine.
"I congratulate these eight women from the Pacific on their fantastic achievement. I am sure they will inspire more women and girls in their communities to get involved with tennis," Minister for International Development and the Pacific Pat Conroy said.
"The Australian Government is proud to support this program which is enabling more women to take up leadership roles in sports governance and administration in the Pacific."