Pat O'Rourke, the Referee for the 2019 Oceania Closed Junior Championships writes that :
"The 2019 Oceania Closed Junior Championships were held in Lautoka, Fiji, in the second week of August. There were some changes to the structure of the tournament, the first major change since it started in 2002. A 16 draw qualifying event was offered and the consolation events were optional allowing players to leave as soon as they were out of the tournament. The doubles draw was also increased in size so that any players who lost in qualifying could still play main draw doubles. In the end there were 11 boys who played qualifying to take the four spots in main draw, and no girls qualifying because of large number of late withdrawals from the girl's main draw.
The events were dominated by Australian players who won all four titles. The boy's singles was won by second seed Stefan Storch who beat Cihan Akay (3) in an excellent three set final. Akay went on to win the boys doubles with Nikita Volonski in a straight sets demolition of Tai Sach and the only non-Australian on finals day Matthew Shearer (NZL).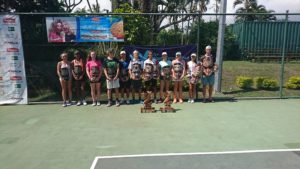 The big day for the girl's singles was semi-finals day where the top two seeds were edged out in three sets. Firstly, top seed Carol Lee (NMI) was upset by third seed Talia Gibson (AUS) and then seventh seed Amy Stevens overcame second seed and fellow Australian Natasha Russell in a marathon battle. The final saw Stevens continue her excellent form from earlier rounds beating Gibson 6-3 6-3 to take the title. The girls doubles final went to a match tiebreak with unseeded Charlotte Kempenaers-Pocz and Elena Micic edging top seeds Roopa Bains and Natasha Russell 10-5 in the decider.
There were some good performances from other Pacific players with Soairse Breen (FIJ) reaching the girl's singles quarter-finals and Leylani Ipunesso (CAL) winning a round in singles and combining with Carolann Delaunay (CAL) to reach the doubles quarterfinals."