Geoff Pollard, former President of the Oceania Tennis Federation from 1993-2013 and also former President of Tennis Australia has been honoured with Life Membership at the recent Oceania Tennis Federation AGM in Fiji.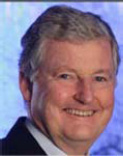 From the inception of the OTF, Geoff Pollard was at the forefront in promoting the development of programmes for Junior and elite players alike and looking continually to develop grassroots tennis and raise the standard of tennis across Pacific Oceania.
His term as President spanned 21 years during which he worked tirelessly to promote the co-operation and fellowship amongst the 19 Nations of the OTF but equally with other Regional Associations and the ITF.