Gary Purcell commences as the new ITF Development Officer, Pacific Oceania at the end of September 2017. He is based in Lautoka, Fiji and travels extensively through the Pacific Oceania Region.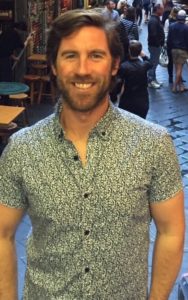 Graduating with a Bachelor of Commerce from the University College in Dublin, Ireland, Gary bring a wealth of qualifications which include ITF/Tennis Ireland level 2; USPTA Pro 2; Tennis Australia Junior Development Coach; Tennis Ireland Director of Tennis Certified; national Certificate in Exercise and Fitness; NCEF Personal Trainer; Specialty Certificates in Young Athletes strength and conditioning.
Most recently he was a full-time tennis professional based in Melbourne where his position comprised of Centre Management of a 16 court tennis centre, Tournament Directing, Programme Development, Event Management and Tennis Coaching. He has previously been Tournament Director for the Melbourne Wheelchair Tennis Open for the last 2 years. This tournament has just been upgraded from an ITF Level 2 to an ITF Level 1 Event for 2018.
Prior to relocating from Ireland to Australia, Gary was Head Coach and Director at the Malahide Lawn Tennis Club in Dublin. His responsibilities there included coaching tennis players of all ages and abilities whilst working closely with the community and the club committee to spread the sport of tennis and encourage new players to try tennis.
He was also Founder and Director of the DG Tennis Academy which ran tournaments, trips and holidays for a wide variety of Junior Players ranging from beginners to teenagers playing on the ITF Circuit. Such trips took him to many clubs and locations around Europe including Wimbledon and Spain.
Gary brings to Pacific Oceania an extensive profile of Player Development but also particularly a passion for working with tennis players of ages and abilities across the entire spectrum. Gary recently attended the POJC which he said has "completely captivated my attention and given me great insight into tennis in the Pacific. It was a pleasure to meet so many people who are passionate about our sport. I am extremely motivated after seeing such talented junior players, to help continue the Development of tennis throughout the region. I am counting the days now to start my new role as Development Officer for the Pacific."
On behalf of the OTF Board and the Pacific Oceania Tennis Community, we welcome Gary and wish him every success.